The 2022 Summer Festival wrapped up our historic motorsport season in fine style, with close to 250 entries heading to Sydney Motorsport Park for a weekend of driving, tinkering and socialising in lovely summer weather. Put the kettle on and take a break for a few minutes to relive the action and enjoy a huge collection of photos from the meeting.
It's been a wet and grey year in Sydney, but that seemed a distant memory over the weekend, with blue skies and moderate temperatures producing near perfect conditions for summer motor racing. Considering the year we've had, we're very thankful to have run both our winter Sydney Classic and Summer Festival in conditions such as these!
Private practice was hosted by the circuit on Friday, giving competitors an opportunity to test, tune and settle in ahead of the meeting proper, with the Sports Sedans kicking off qualifying early on Saturday and the circuit buzzing along until they ran the final event on Sunday afternoon.
We were thrilled with the turnout to the Sydney Classic earlier in the year, but competitors smashed that out of the park for the Summer Festival. Sports Sedans were a feature at the event and ran together with Supersprint throughout the weekend. Steve Lacey put on a great show in the 1988 Commodore, running neck and neck with Carey McMahon in the ex-Graeme Whincup 1985 Chevrolet Monza for most of the meeting. Lacey took qualifying and two sprints, with McMahon picking up fastest lap in run two and Jason Maros, consistent in third throughout the weekend, going fastest in the last run.
Sports Sedans were joined on the poster by Formula 5000, who organised a phenomenal field with Q & R Sports and Racing. Tom Tweedie had the run of the field over the weekend, steering the Chevron from pole position to four race wins. Paul Zazryn qualified fourth, but quickly moved up to third in race one and then grabbed three second place finishes. Chris Farrell qualified third, took second in race one and third in race two, with Daniel Nolan moving the Nola Chev into third for the remaining two races.
Group S managed the strongest field of the weekend, the highlight of which was the enduro race on Saturday morning. Wayne Seabrook claimed victory in that, along with pretty much every other outing outside of a rare DNF in race one. The MG Midgets of Simon and Damien Meyer completed the podium ahead of David Cunneen and Doug Barbour.
We were also very pleased to see a particularly strong field of L, M & O Sports and Racing cars at the Summer Festival. Their iconic Dawson-Damer trophy race was held early on Sunday afternoon, Laurie Bennett taking it home in the Elfin 600 B ahead of David Kent and Noel Bryen.
The Vees were competitive as always, Davit Cutts going quick early, but losing out to Tony Paynter for the first three races before grabbing a win in race four. Matthew Pearce was in amongst it as well, with three second place finishes and a third to his name by the end of the weekend.
Group N was also out in force, Chris Thomas in the Torana leading the field after qualifying and winning race one before an issue dropped him down the order and saw him go from last in race two, to sixth in three and back at the top for the final race. Gavin King and Ian Mewett completed the podium for qualifying and race one, although swapping their order, Peter O'Brien and Graham Russell picking up podium finishes for race three and Michael Rose moving into third in race four.
Formula Ford saw Cameron Walters unassailable from qualifying through to race four, Bruce Connolly taking the final chequered flag. Garry Watson was quick early, claiming second in qualifying and race one, before Andrew Taite moved up from fourth in qualifying and third in race one for second in race two. Connolly got the better of him in race three, both moving up a spot for the final race.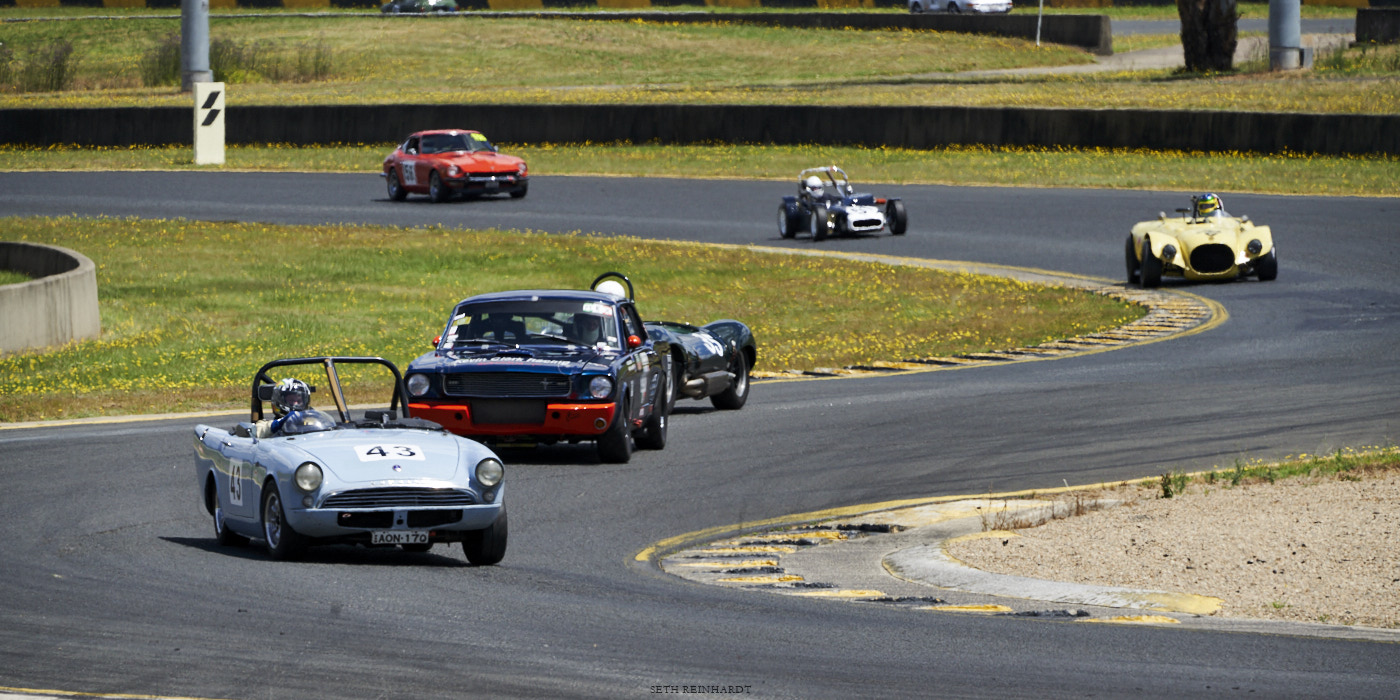 Regularity was another 30-strong field, which saw a lot of movement at the top of the points score. Jim Goulden, Austin Blanch and Richard Cardew led the first run, with Geoff Burgess, Jac Cousin and Jim Goulden consistent in a closely contested second run. Brad Bassett topped runs three and four, with Brad Robinson doing so for the final run of the weekend.
We'd like to extend a massive 'THANK YOU!' to all of the competitors, family and friends who joined us over the weekend with their beautifully prepared machinery and made such a successful Summer Festival.
A particular thanks to Ernie Nagamatsu, who brought the wonderful Old Yeller all the way down from the 'States to race with us – our first international visitor since the pandemic began. Ernie and his friends and family are a wonderful presence in the pits and on the track, and we're honoured by their support.
Most importantly, we'd all be standing around doing not very much if it wasn't for the many volunteers and supporters who contribute to each and every HSRCA race meeting. A huge amount of work goes into making a race meeting like this happen and we would not be able to do it without you. Thank you!
Thank you from Noel, Robyn, Rod, Wayne, and the HSRCA committee for your support of the Summer Festival. We'll be back early in 2023 for the New Year Historics at Sydney Motorsport Park over the 3rd to the 5th of February. The Sydney Classic will return over the 9th to the 11th of June and the Summer Festival will run over November 24 to 26, both at Sydney Motorsport Park.
With that, let's move on to the photos. Click through the following galleries, and enjoy.
2022 HSRCA Summer Festival: Campbell Armstrong Rider
2022 HSRCA Summer Festival: Riccardo Benvenuti
2022 HSRCA Summer Festival: Steve Haskell
2022 HSRCA Summer Festival: David Jenkins
2022 HSRCA Summer Festival: Seth Reinhardt
2022 HSRCA Summer Festival: Mark Richards
2022 HSRCA Summer Festival: Stuart Row
2022 HSRCA Summer Festival: Geoff Russell
2022 HSRCA Summer Festival: Peter Schell
2022 HSRCA Summer Festival: John Smith
2022 HSRCA Summer Festival: Mark Walsh
2022 HSRCA Summer Festival: Trophy Presentations
Thanks to Campbell Armstrong Rider, Riccardo Benvenuti, Steve Haskell, David Jenkins, Seth Reinhardt, Mark Richards, Stuart Row, Geoff Russell, Peter Schell, John Smith and Mark Walsh for covering the event, and sharing their images!
Please click their names to head to their websites and get in touch if you'd like to see more or order images. If you'd like to get in touch with John, you can reach him at johnsphotos0065@gmail.com.
If you'd like to reach Geoff, Peter Schell, Steve Haskell, or Seth, or if you're looking for something in particular, send Seth an email at web@hsrca.com.